Kimi Blazes The Streets of Monaco
KIMI BLAZES THE STREETS OF MONACO!!!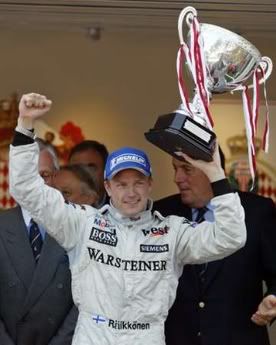 Kimi has done it again, after his stunning win over Alonso in Spain. He posted a truly memorable victory Sunday, leading from pole position and winning the Monaco Grand Prix, the most glamorous road course in the circuit. This win is his 1st in Monaco and his fourth career Formula One victory. What a stunning victory it was indeed. Kimi started from pole position and from then on never looked back. The Finn in his McLaren was the only man who sailed round the streets of the Principality with such ease that it seemed like he was enjoying a nice Sunday afternoon drive, albeit a very fast one. He was so superbly cool and calm while he was blazing round the corners and shooting out from the tunnel on the Monaco circuit that we can clearly see why he's nicknamed 'Iceman'.
Kimi
: "It's a special place, everybody looks at you in a slightly different way when you win in Monaco. To win is always fantastic, but Monaco is a special challenge."
Kimi has now made his way up to second place in the drivers' championship. Everything went well for Kimi and Mclaren, from their one stop strategy to their decision not to pit when the safety car was out.
From the
Official F1 website
:
At the beginning of the race, Raikkonen was known to be on more fuel than Alonso, but even so he pulled steadily away. By lap 23 he was 5.5s clear as traffic made the gap fluctuate, but then came an incident at Mirabeau on lap 25 when Christijan Albers spun his lapped Minardi. Michael Schumacher, running eighth right behind David Coulthard, snagged the back of the Red Bull as the Scot slowed to avoid Albers and momentarily the track was blocked. Out came the Safety Car, and many of Raikkonen's rivals headed for the pits to take advantage of the chance to refuel. But not Raikkonen. The Renaults came in together; Alonso losing time as sufficient fuel to get him to the flag was pumped in, and Fisichella lost time waiting for his team mate to be serviced. Raikkonen could not take on enough fuel at that stage to go the distance because of the high initial load he still carried, and for a while McLaren appeared to have made an error of judgement. It turned out to be anything but.
Kimi's principal challengers, however, made it even easier for him to secure the win in Monaco. Kimi and Mclaren needed Alonso to finish 4th or lower for Kimi tak make a bigger dent in Alonso's lead in the Drivers' championship and Alonso did just that. He finished 4th.
Seven-time series champion Michael Schumacher finished seventh. Ha....ha....ha!!! He is winless in seven straight races, his longest drought since joining Ferrari. His last win was in Japan last season.
Michael Scumacher
: "Given everything that happened I have to be reasonably happy with my two points." (Yeah.... keep telling yourself that).
Anyways, it was a great race. I'm so happy for Kimi and Mclaren. Hope there's more of that in the races to come.
To Winon@: I wish you were there with me too. What about what you promised me, when r u coming over to Penang...... hmmmmm......10 was it? Well, I'm waitingggggggg.
To all schumi fans that just happen to come across this posting and who hate my guts by now...... I say nyahhhhhhhhhhh. Better luck......NEVER! Wahahahhahahaha!